Latest Projects | Go 4 Marketing, Preston
Below are examples of our most recent business and non profit web design projects which highlight the power and fluid usability of onine marketing. Contact Lancashire web design firm Go 4 Marketing today for more information. Thank you for your interest.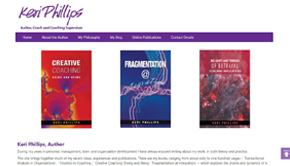 Website and Social Media for Keri Phillips
A clean designed aimed to showcase the author's books and allow for their purchase. We also undertook a Social Media campaign to work along side the website launch.
Web site built for Chapelfield PR
Chapelfield came to us wanting a site built that could be easily manged without any prior technical knowledge. We built a web site that used CMS (Content Management System) functionality, where the client was able to create and edit pages themselves.
CMS Design and SEO
A new design was applied to an existing CMS website to bring it inline with the company' brand style. The website was also given an SEO campaign to raise its placement in the search engine results.
CMS Website
Another new design was applied to an existing CMS website. This time aimed at bringing the design a fresh look and more corporate feel. The website was also given an SEO campaign to raise its placement in the search engine results.
Logo Design
We're committed to creating custom logo designs that best suite your company's needs at a competitive and affordable price. We guarantee your logo will make your company stand out from the rest of the crowd.
Fresh design for palanquin flair
Wanting to update their website image and content, this market leading architects practice approached Go 4 for something contemporary and functional. We produced a design along with some re-branding ideas which were given the thumbs up.
CMS Website
A new business venture which required a website that was clear and colourful. We produced a design that allowed the product to be showcased via a series of photographs and was not too text heavy.
New Website Design
Website to reflect their own unique selling points - where were 'quality', 'honesty' and 'clarity'. We also undertook the SEO optimisation of the site to ensure that they ranked highly under a series of targetted keyword phrases.
Woodlands Physio go Online
The business had an establish clinic with a reputation for a professional service. However, they had no website with which to attract new business or to direct enquiries; who wanted directions. Go 4 Marketing produced a website in record time that reflected the qualities of the business and was within the clients budget.
Web Development
Company Philosophy
Professional web design and online marketing needn't cost the Earth. Whatever your budget, whatever your requirements, call us today. You won't be disappointed!